Expand service lines and improving client experience.
Other than workflow automation, there are several other aspects also to improve the way you do practice. ERPCA covers almost every aspect of daily operation to make your practice measurable.
Elegent way for DSC Management
Easy to use interface makes us unique for DSC management. Managing DSC in ERPCA helps you to mainly remember it's expiry date, custodian of DSC, and track usage.
Auto generated customer consent forms
Regular reminders on DSC expiry date
Easily find Custodian of DSC in team
Get log of DSC usage by team members
Access complete history of renewal, custodian change, usage, etc in one click
Register for FREE DEMO!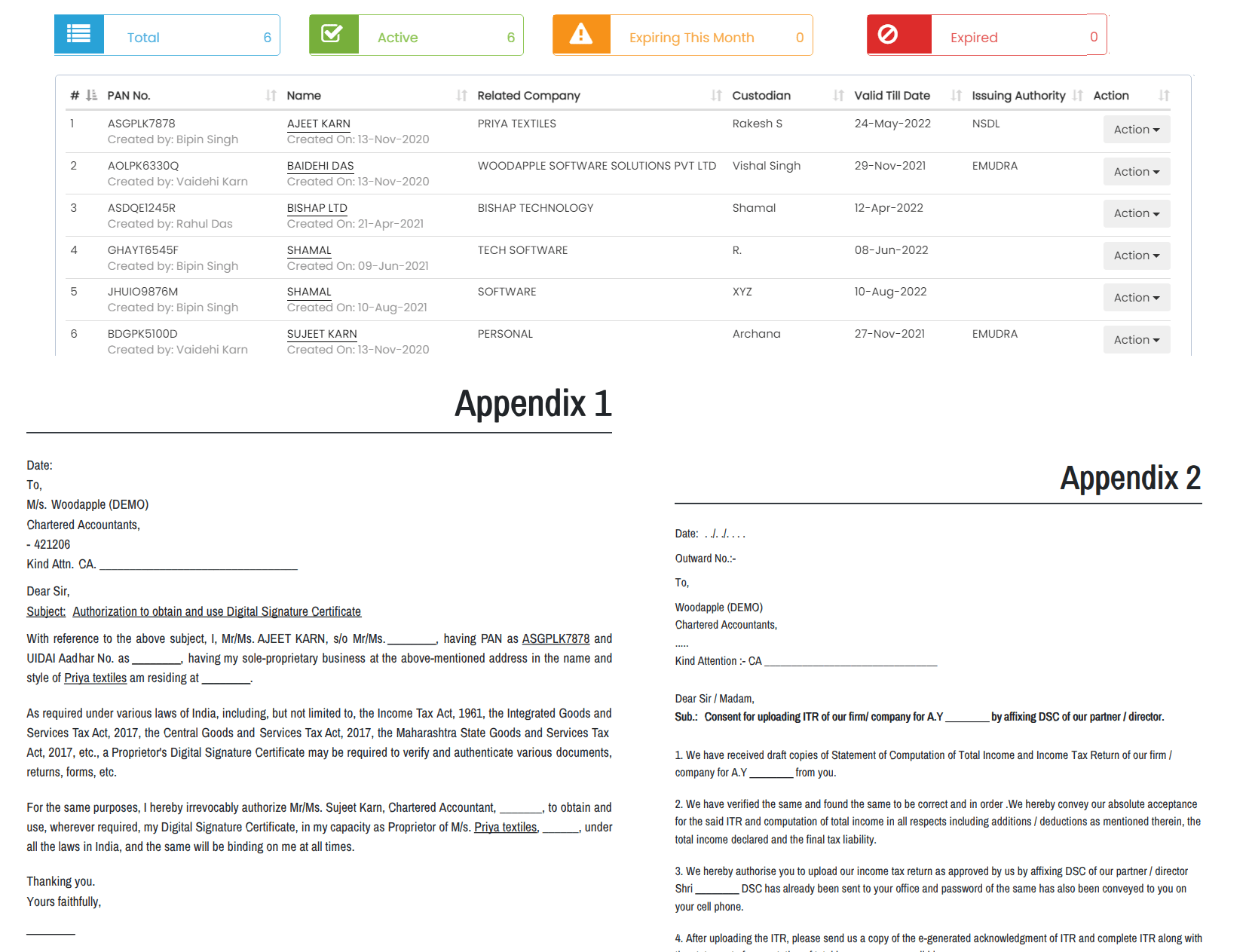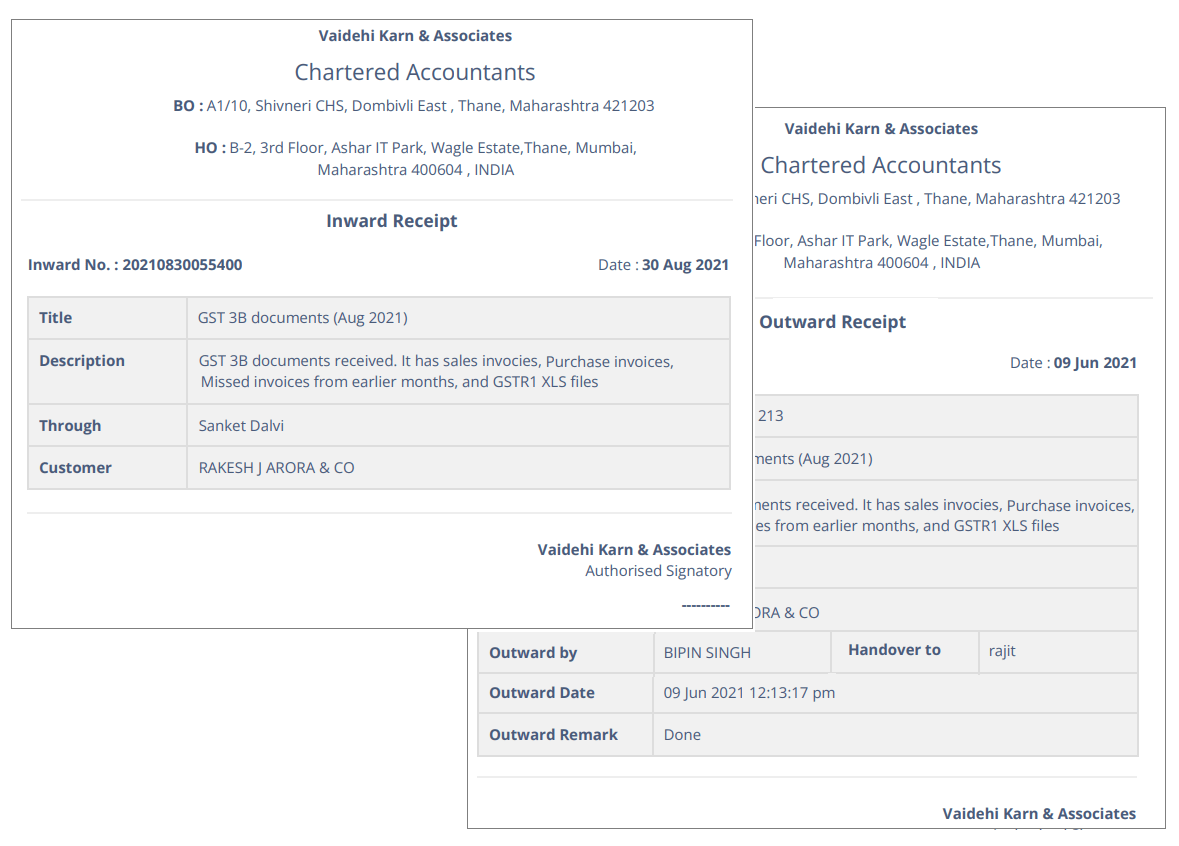 Improved way of Inward - Outward Management
Very organized way to manage inward / outward of client document with option to generate receipts and acknowledgement copy.
Generate PDF acknowledgement of Inward
Maintain efficiently the returnable / non-returnable document
Tracking of Inward document location made easy
Inward register linked with task
Complete transparency between teams of inward status and updates
Register for FREE DEMO!
Team's Attendance Management
ERPCA gives the ADVANCED Geo-Location based attendance tracking system. Utmost accuracy in attendance location marking.
Best tool to manage staff attendance from audit places
Easily available monthly attendance report for team's payroll
Allow team to record break time during working hrs
Auto updates to management with users list for non-marking attendance
Automated Attendance updates to management team
Register for FREE DEMO!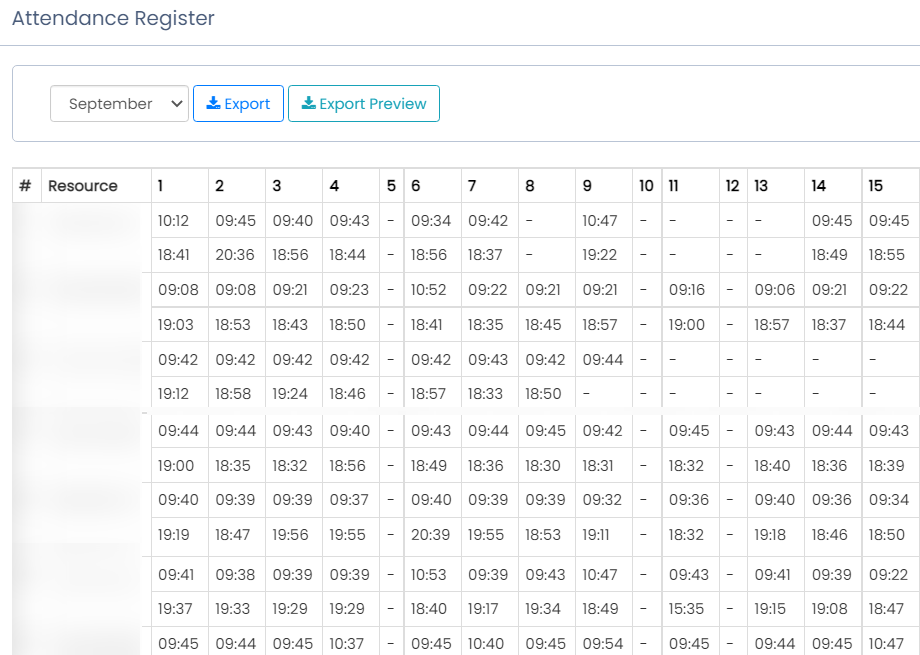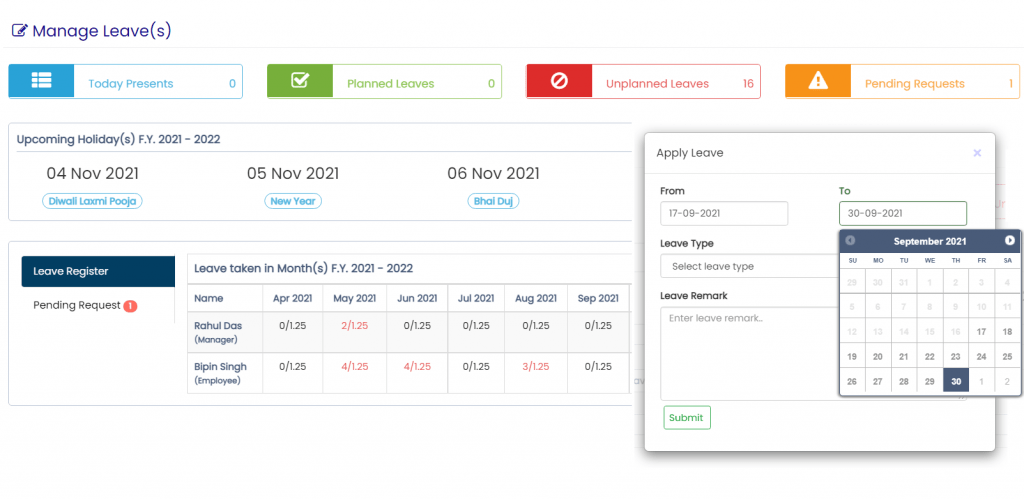 Supervision of Interns' Leave
It is a tedious chore to manage leave applications by numerous interns working under you. With ERPCA, this concern will be addressed effectually. View all the holidays taken by articles at one glance.
Leave Application & Approval System
Category wise leave management of employees
Set holiday of entire year
Restrict user login on holidays or dates on which they are on leave
Register for FREE DEMO!
To-Do Handling
Daily To-Do's contains the work which you usually maintain in your daily diary to keep list of things that need to be done and you don't want to skip anyway. ERPCA has in-built powerful tool for better to-do management
Create to-do in seconds and priortize it
Assign to-do for your team members
Keep track of all your pending / completed work
Auto updates on to-do assigned
Log notes of to-do
Register for FREE DEMO!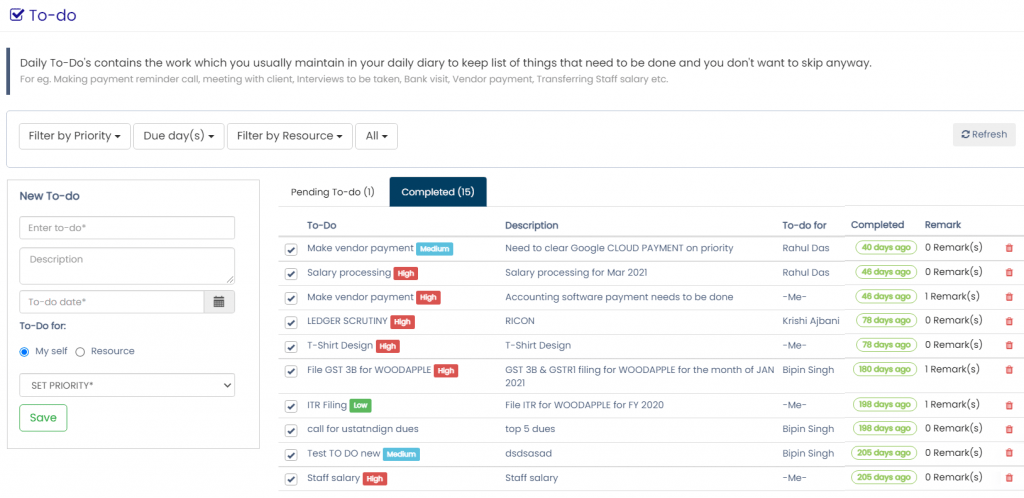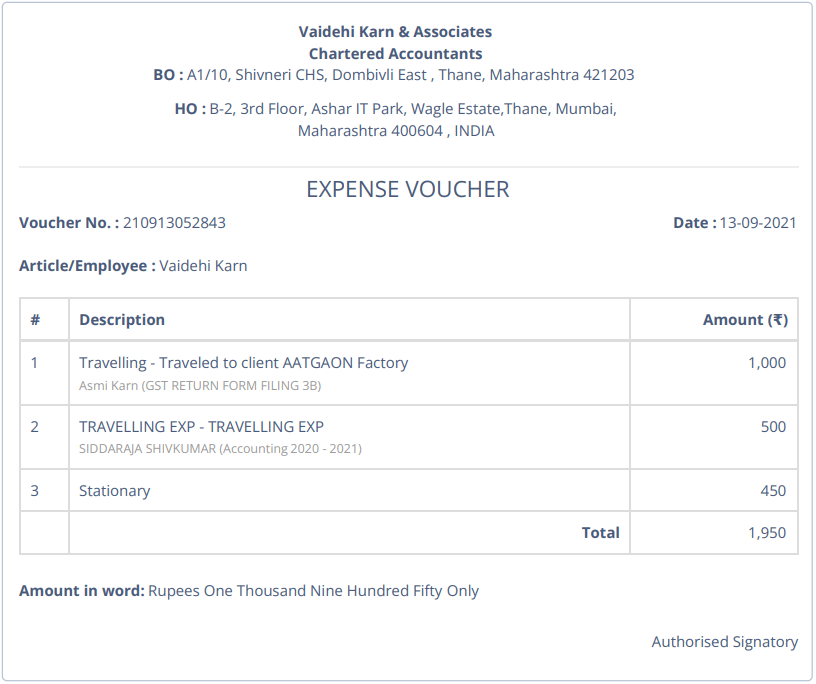 Manage expenses incurred on task(s)
Tracking expense incurred on task(s) is an important aspect of any business.
Expense application & approval System
Categorize expense for client tasks
Generate expense voucher PDF
Track paid/unpaid expense vouchers
Register for FREE DEMO!
Reminders & Notifications
As we all are busy in reaching targets, auto reminders and notications plays an important role in keeping us updated about what's going on! ERPCA helps you to keep updated your clients and team about the work progress and assigned in form of reminders and notifications
Send messages with your brand
Configure your company email id for all outgoing emails. Also have complete flexibility to link your own SMS gateway to send SMS from your ERPCA account
Send Reminders
Send reminders to your client for due dates, pending data, bill(s) overdue or reaching due date as SMS and EMAIL
Automated EMAILS and SMS
ERPCA sends auto email/sms/notifications to your client about their task creation, data required for task(s), bills generated, Payment receipt acknowledgement, etc
We have received plenty of awesome testimonials
ERPCA helped me in the form of managing the tasks this software has certain inbuilt tasks which actually helps me to understand what should be the workflow. Staff understand how the work should be done. I wish all the best for the ERPCA software team.
CA Rajesh Bhate
RCB And Associates